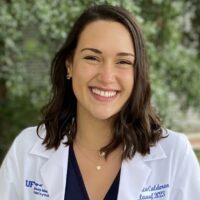 Originally from Puerto Rico and growing up in St. Petersburg, Florida, I have always been captivated by the marine world and natural beauty of my home state. Growing up surrounded by marine life inspired me to pursue a career in veterinary medicine. I am a recent graduate from the University of Florida College of Veterinary Medicine, with interests in anesthesia, ophthalmology, and aquatic animal medicine.
When I'm not caring for animals in my career, I enjoy caring for and spending time with my dog, Mango, especially going on walks or teaching her fun tricks. In my spare time I enjoy reading books, being outside, traveling, delving into the world of K-pop, trying new restaurants, and most importantly, spending time with my friends and family.
I am extremely excited to join the Friendship family and start my veterinary career as one of their rotating interns. I'm proud to be part of a hospital that places such high value in their community and prioritizes a supportive, fun, environment that pushes for professional and personal growth.
Education
University of Florida College of Agriculture and Life Sciences, B.S. Marine Science
University of Florida College of Veterinary Medicine, DVM, Certificate of Aquatic Animal Medicine
Clinical Areas of Interest
Anesthesia
Ophthalmology
Aquatic Animal Medicine