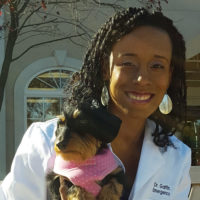 I'm from a little town in South Jersey called Deptford (so I will have to relearn how to pump gas!) I decided to leave the cold snowy winters behind and ventured to New Orleans to Xavier University of Louisiana for my Bachelors in Biology Pre-Med and then went a little further north to Tuskegee, Alabama for veterinary school at Tuskegee University College of Veterinary Medicine.
I don't currently have any pets of my own but I help out with my mother's two wirehaired dachshunds- Miss Babs and Saul.
I'm a travel junkie and take an annual birthday trip to some new destination-having been to Egypt, China, Moscow, Dubai, Kenya, France and other places. I am a fun, silly yet serious and witty, pescatarian (I enjoy cooking new dishes) that lives an active fitness lifestyle of weightlifting, yoga, kickboxing, and various fun cardio classes. I do watch anime and read manga and have been trying to learn Japanese and found some great meetup groups in the DC area to help me.
Clinical Areas of Interest
Trauma care
Wound care
Informal bereavement counseling
Why Do You Work at Friendship?
I have always wanted to challenge myself to learn more and do more both professionally and personally and Friendship Hospital for Animals' diverse caseload along with all of the doctors, technicians and staff will help to grow me as a better emergency veterinarian and person. Plus I've always wanted to live in the DMV since moving back to the East Coast
Education
Small Animal Rotating Internship – Purdue University College of Veterinary Medicine
DVM – Tuskegee University College of Veterinary Medicine
BS in Biology Pre-med – Xavier University of Louisiana