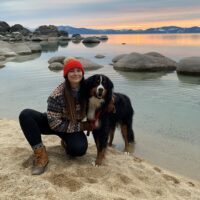 I grew up in Virginia and moved around the East Coast for much of my education before moving to California for residency. Despite the good weather, I was eager to move back across the country and couldn't be happier to have settled in DC.  I have wanted to be a veterinarian for as long as I can remember and fell in love with the fast pace and complex cases of critical care medicine in my last year of veterinary school. Since then I have found special interest in transfusion medicine, respiratory disease, and sepsis. Outside of the hospital I enjoy visiting museums and galleries, exploring local food culture, and learning about and collecting wine. I currently live in DC with my two Bernese Mountain Dogs, Moose and Bunbury.
Education
The College of William & Mary, B.S. Neuroscience
University of Pennsylvania School of Veterinary Medicine, VMD
BluePearl Veterinary Partners NYC, Internship in Small Animal Medicine & Surgery
University of California Davis Veterinary Medical Teaching Hospital, Residency in Emergency & Critical Care
Research and Publications
Nemi J, Hopper K, Epstein SE. Retrospective evaluation of non-cardiogenic pulmonary edema in dogs and cats (2000-2021): 31 cases. Journal of Veterinary Emergency and Critical Care, in press.