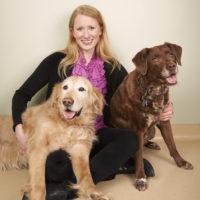 I grew up largely in Michigan and Colorado horseback riding (hunter-jumpers), downhill skiing and spending time outside. I have always had a love for animals (a few dogs and birds, a cat, 2 horses and even a hedgehog) and enjoyed anatomy, biology and medicine in school. Becoming a veterinarian seemed a natural choice for a career. I have always loved fast-paced and varied emergency medicine, even as a tech prior to vet school. This continued through Ross, my clinical year and even my first job after vet school. By my internship, I was hooked.
After completing my internship and falling in love with Manhattan, I moved uptown and spent several years working at the Animal Medical Center in the emergency and critical care department. Alas, I longed for fresh air, a change of pace (without sacrificing the highest quality of veterinary medicine), and a washer-dryer and dishwasher in my apartment and moved to Washington, DC and Friendship Hospital in December 2013.
I spend my free-time hiking and being a local tourist visiting museums and gardens, cultivating succulents, running, doing yoga, reading and spending time with friends. I still love to ride horses (the jumps are smaller) and ski (the runs easier) and spend most days off catering to the latest canine installment, a ridiculous cream Labrador retriever named "Silly Dilly".
Clinical Areas of Interest
Polytrauma, sepsis, endocrine disease and shock
Why Do You Work at Friendship?
Honestly, I previously worked with Dr. Calabro and Dr. Matthiesen in NYC and was looking for a new opportunity and opted to move here and join them. I have stayed because of my amazing colleagues and the unique make-up of our hospital with emergency, primary care and specialty medicine all working together to provide the best care to pets regardless of the situation or stage in life.
Education
BS: University of Utah, Biology major, 2000
DVM: Ross University School of Veterinary Medicine, 2005 (clinical year at the University of Wisconsin at Madison- School of Veterinary Medicine)
Internship: Fifth Avenue Veterinary Specialists, New York, NY, 2005-2006