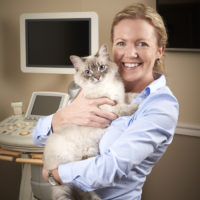 I joined Friendship in 2013 after my residency in diagnostic imaging at Tufts Cummings School of Veterinary Medicine. I graduated from Massey University School of Veterinary Medicine, after which I completed a rotating internship at Veterinary Specialist Group (New Zealand). Prior to my veterinary studies I completed a Master's Degree in Anatomy and Radiology at Auckland School of Medicine. I am very proud to be a part of the Friendship Diagnostic Imaging team alongside Dr. Hobbs. We provide a multi-modality, state of the art diagnostic imaging service for the Friendship team as well as local veterinarians. When I am not working I enjoy running, cycling, and exploring new towns in the U.S.!
Clinical Areas of Interest
I enjoy all facets of diagnostic imaging with ultrasound and C.T. being my favorites. I have particular interest in musculoskeletal imaging.
Why Do You Work at Friendship?
Friendship is a collegial, state of the art hospital that provides gold-standard medicine, education, and patient care. Our hospital embraces new advances in medicine and technology, and remains proud to be an independent, family owned hospital. I am excited to be a continued part of Friendship's growth in the coming years.
Education
Bachelor of Science (Biochemistry)
Master of Science (Anatomy and Radiology)
Bachelor (Doctor) of Veterinary Science
Board Certifications
Diplomate, American College of Veterinary Radiology
Publications and Research
Trans-articular Facet Screw Stabilization and Dorsal Laminectomy in 26 Dogs with Degenerative Lumbosacral Stenosis with Instability. Vet. Surg. 41 (2012) 611–619. EJ Hankin, RM Jerram, A Walker, CG Warman, MD King.
Matrix Proteoglycans and Remodelling of Interstitial Lung Tissue in Lymphangioleiomyomatosis. J Pathol. 2004 Jun;203(2):653-60. Merrilees MJ, Hankin EJ, Black JL, Beaumont B.
Heather K. Dean, DVM; Elyshia J. Hankin, BVSc, MS. JAVMA. What Is Your Diagnosis? June 1, 2016, Vol. 248, No. 11, Pages 1231-1233
Hye-Yeon Jang, DVM; Elyshia J. Hankin, BVSc, MS. JAVMA. What Is Your Diagnosis? November 15, 2016, Vol. 249, No. 10, Pages 1135-1137
Comparison Of A Computed Tomography Pulmonary Trunk To Aortic Diameter Ratio With Echocardiographic Indices Of Pulmonary Hypertension In Dogs. Vet Rad Ultrasound. 2017, Pages 1-9. James Sutherland-Smith, Elyshia J. Hankin, Suzanne M. Cunningham, Amy F. Sato, Bruce A. Barton.