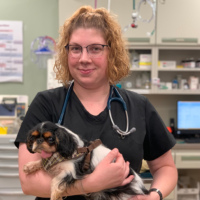 I grew up in Maryland but over the course of my education have lived in Ohio, Minnesota, Washington, and Massachusetts. I find animal physiology and behavior fascinating, which led me to study zoology in college and to work and volunteer with dogs, cats, exotic animals, and wildlife.
I am happy to be back on the East Coast. I live in Maryland with a crew of adorable adopted brachycephalic dogs and cats. In my free time I enjoy reading, group fitness classes, hiking, and cooking new recipes.
Clinical Areas of Interest
Toxicities, trauma, pain management, nutrition
Why Do You Work at Friendship?
I am excited about all the specialty services Friendship has and the ability to collaborate with colleagues on complex cases and a diverse caseload. I think it is important to provide clients and their pets with the highest quality of medicine and care.
Education
BA, Ohio Wesleyan University. Major: Zoology.
DVM, University of Minnesota College of Veterinary Medicine.
Rotating internship: Veterinary Specialty Center of Seattle, Lynnwood, WA
Emergency and critical care internship: Massachusetts Veterinary Referral Hospital, Woburn, MA
Residency: Angell Animal Medical Center, Boston, MA
Publications and Research
Thies M, Bracker K, Sinnott V. Retrospective evaluation of the effectiveness of xylazine for inducing emesis in cats: 48 cats (2011- 2015). Journal of Veterinary Emergency and Critical Care 27: 658-661. 2017.