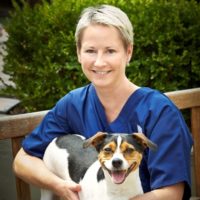 I grew up in Minnesota, the land of 10,000 lakes. After completing veterinary school in 1995, I moved to South Florida where I was in private practice for 10 years before moving to the DC Metro area. I enjoyed the weather extremes in MN and FL, but love the more temperate weather here. My interest in veterinary medicine grew from an interest in medicine in general, and after spending time working in small animal clinic in MN, decided to make it my career.
I live in Bethesda with my wonderful family, and two dogs; Logan, a Yorkie mix and Walker, a Dalmatian.
My personal interests include spending quality time with my family, yoga and general fitness, and travel.
Clinical Areas of Interest
My professional interests include endocrinology, ophthalmology, soft tissue surgery, and urology.
Why Do You Work at Friendship?
I have been with Friendship since 2005. I am proud to be part of a collaborative team, and enjoy working in an environment that values teaching, learning, and providing outstanding patient care.
Education
BS, University of Minnesota.  Major: biology.
DVM, University of Minnesota
Internship: Hollywood FL
Board Certifications
Diplomate of the American Board of Veterinary Practitioners (Canine and Feline Practice)