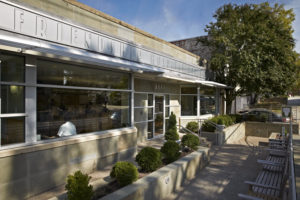 At Friendship, we pride ourselves on being an actively engaged member of our community. Our Mission, Vision, Core Values and ways that we participate in the community are detailed below:
Our Mission
We are a leader in comprehensive animal healthcare that improves the well-being of our patients, clients, team members and community.
Our Vision
To be the most medically progressive animal hospital in the country while adhering to our core values.
Our Core Values
The Friendship Family:
Commits every team member to a clear, shared vision of our future.
Values personal and professional growth. Shares knowledge with the entire healthcare team.
Sets and maintains high service and healthcare standards. Holds individuals accountable to those standards.
Is committed to providing excellent care to our patients, our clients and each other twenty-four hours every day.
Fosters an environment of loyalty, respect and equality. Recognizes and celebrates the diversity of our clients and our team.
Is committed to open and honest communication.
Cultivates a positive environment which is cooperative, supportive, productive, creative and fun.
Is committed to community service and corporate social responsibility.
Strives to be a national leader in the veterinary healthcare profession.
Mutual Respect Policy
This is a place of healing, where everyone is treated with dignity and respect. There is no tolerance for aggressive behavior such as:
Physical Violence
Abusive language (verbal harassment or threats)
Sexual language or behavior directed at others
Carrying or unauthorized weapons on our premises
Threatening physical gestures
Photography or audio/visual recordings of associates or patients without express permissions or that creates a perceived threatening environment
For the safety of our patients, visitors, and team members, any such incidents may result in removal from the facility.
The hospital reserves the right to pursue appropriate legal action.
CARES Service Standards
COMPASSIONATE
I will greet each client in a warm and welcoming manner.
I will treat each client as an individual with their own unique needs.
I will empathize with the clients' joys and sorrows.
I will "walk in the client's shoes" to appreciate their true needs, both expressed and unexpressed.
I will ensure the comfort of our patients at all times.
I will always answer the phone with a friendly tone and a smile.
ATTENTIVE
I will acknowledge each client as they enter the hospital and use the client's and the pet's name in our interactions.
I will anticipate the client and patient's needs.
I will proactively engage each client to ensure they have a positive, memorable experience.
I will go above and beyond to exceed the client's expectations.
I will listen actively and be responsive to the client's needs.
RESPECTFUL
I respect differences in values, cultures, beliefs and ages, and will incorporate my awareness of diversity into all my interactions.
I will remain professional and polite in all interactions with the client.
I will protect the confidentiality of the client's and patient's information, sharing it only at the client's consent.
I will respect and support my coworkers in a courteous and professional way.
I will always be honest with the client, adhering to Friendship's "Mess up – fess up" policy.
I will value and respect every team member's role and contribution to the care we provide.
EXPERT
I will collaborate with my colleagues and industry experts to provide the best care and service.
I will passionately strive to be the best that I can be by always furthering my education and skills.
I will provide clients with accurate and current information regarding their pet's health care and the policies and procedures at FHA.
I will always follow-through on what I say I will do.
I will always tell the client how I can help and what I can do, not what I can't do.
SAFE
I will monitor the hospital to make sure the clients and patients are in a clean and safe environment.
I will keep patient safety a priority in each interaction.
Community Involvement
Friendship is committed to the community in a variety of ways. Below lists just a few examples.
Rescue Discounts
Friendship recognizes the importance of our local and grassroots rescue organizations. To help offset the costs associated with their tireless work, Friendship offers discounted and donated services to our local rescue partners, as well as free first time exams for newly adopted pets. Annually, Friendship provides over $230,000 in discounted and donated veterinary services.
Rescue groups must, minimally, meet the following criteria in order to be considered for a partnership:
Located or based in the DC-metro area.
Designated 501(c)(3)
Proven commitment to the well-being and bests interests of animals in their care
For more information on becoming a rescue partner, contact our Marketing Manager.
Community Service Leave
Friendship provides all staff members employed for at least one year with paid leave so that they have an opportunity to "give back" to the community. Friendship provides six paid days of community service leave each year to qualified staff members. Staff members may users the leave forth the community service of their choice. Friendship employees have used their leave to work for schools and churches and animal humane organizations.
Smithsonian's National Zoo
Friendship is proud to support the Smithsonian's National Zoo and its mission to study, care for and save species. Our team provides in-kind support in various ways including consulting services and use of our facility.
Marshall Legacy Institute
Friendship is a proud supporter of the Marshall Legacy Institute. MLI trains landmine detection dogs and works with countries around the world to clear landmines, provide survivor assistance and do education outreach. We participate in their annual Clearing the Path Gala and have sponsored a dog, named Friendship.
Funds
Friendship has several funds to help our clients and patients, as well as to advance the care we are able to provide.  
The Brudder Sullivan Fund is a 501 (c) (3) intended to cover a set portion of the bill to help offset the cost to owners. 100% of every dollar contributed goes directly to a Friendship client in need of financial assistance.  Tax-deductible contributions to the fund can be made here.  To submit a check by mail, please download this form and mail it along with your payment to Veterinary Care Foundation, 16550 NW 45th St. Morrison, FL 32668.
Friendship's Pandora Fund is used by Friendship veterinarians to perform clinical research or obtain advanced diagnostics, that might otherwise not be performed, to help further our understanding of disease processes. Friendship contributes a gift to this fund in the memory of each patient who has passed.  This gift not only memorializes your pet, it also helps advance veterinary medicine and the ability for Friendship veterinarians to diagnose and treat cases.
Allocation of funds is determined on a case by case basis by a member of our management team.