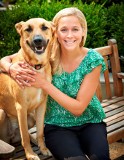 Growing up in Chevy Chase, MD, my family had a number of dogs and cats and a general love for animals. At Middlebury College, I remained interested in the healthcare profession and majored in neuroscience, though my focus turned to human medicine. I spent my summers doing research as well as counseling at the Joslin Diabetes Center in Boston. It was not until shortly before my graduation that I revisited my first dream – to become a veterinarian.
After college, I moved back to DC and began work as a veterinary technician here at Friendship Hospital for Animals. I knew right away that I wanted to come back and be a staff veterinarian at this impressive practice. I then went to work for the FDA Center for Veterinary Medicine while I applied to vet school. I attended the University of Pennsylvania School of Veterinary Medicine and conducted research in different veterinary specialties during my summers, including a return to Friendship to work with Dr. Chand Khanna at The Oncology Service and Animal Clinical Investigation, LLC.
After graduation, I accepted a small animal rotating internship at the Animal Medical Center in New York, NY. I saw hundreds of cases and enjoyed the hectic pace of this large non-profit veterinary center. After 5 fulfilling years, I was happy to return to Friendship, and my hometown.
I live in Bethesda, MD with my husband, our two year old daughter Palmer, and our shelter dog Madaket, whom I spayed as a third year vet student and never let go. Outside of work, I enjoy the outdoors, traveling, and spending time with family and friends.
Clinical Areas of Interest
Preventative Medicine, General Surgery, and Endocrinopathy
Why Do You Work at Friendship
I absolutely love working at Friendship! Friendship is a forward-thinking hospital that practices the very best level of care for our patients. It is also an added bonus that my family is close by and DC is a fantastic place to live.
Education
Holton-Arms School, Bethesda, MD
Middlebury College, Middlebury, VT
University of Pennsylvania School of Veterinary Medicine, Philadelphia, PA
Animal Medical Center (General Medicine and Surgery Internship), NYC, NY
Publications and Research
Schuyler L. Winstead: August 2010, University of Georgia College of Veterinary Medicine, 10th Annual Merial-NIH National Veterinary Scholars Symposium; "Development of the Canine Short Wavelength-Sensitive Cone Electroretinogram"
N, Seifert M, Kane E, Peter L, Ho R, Winstead S, Hirshman M, Goodyear L. "Role of AMP-activated protein kinase in exercise capacity, whole body glucose homeostasis, and glucose transport in skeletal muscle–Insight from analysis of a transgenic mouse model,." Diabetes Research and Clinical Practice 2007; 77(3): S92-S98