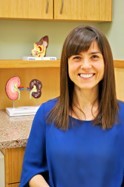 I was born at Sibley Memorial Hospital but actually grew up in Pittsburgh Pennsylvania. I attended the University of Pittsburgh and graduated with a degree in poetry writing but decided mid-way through that I was interested in attending human medical school. But after accompanying a classmate on a tour of a veterinary school, I changed my mind and decided veterinary medicine was much more appealing! I began volunteering at veterinary hospitals and wildlife rehabilitation centers – these experiences only confirmed that I was making the right choice. I attended the University of Pennsylvania Veterinary school followed by a rotating internship (emergency, medicine, and surgery) in Norwalk, Connecticut. After completing my internship, I moved to Madison, Wisconsin where I worked in primary care for 2 years before deciding that dermatology was the area of medicine that interested me most. I began working with the dermatologists at the University of Wisconsin Veterinary Medical Teaching Hospital on clinical cases and research (primarily dermatophytosis and allergy). Eventually I joined them full time as a dermatology intern. That experience led to a dermatology residency at the University of Pennsylvania that was completed in 2015. I remained at Penn as a faculty member for one year and passed my dermatology board examination in fall of 2015. I joined Friendship Hospital for Animals in September 2016. I love living in the D.C. area with my husband, four cats, and two shelter dogs.
Clinical Areas of Interest
Otitis (ear disease), yeast dermatitis, and auto-immune skin disease.
Why Do You Work at Friendship?
I love the collaborative atmosphere and the high level of medicine that is practiced here. Everyone is so friendly and willing to work together for the best interest of the patient. It is a perfect blend of academic medicine with a family-owned business feel – everything is still very personal and client/patient focused in today's corporate world.
Education
University of Pittsburgh – BA poetry writing

University of Pennsylvania School of Veterinary Medicine

VCA Norwalk/Shoreline – rotating internship emergency/medicine/surgery

University of Wisconsin – dermatology internship

University of Pennsylvania – dermatology residency
Board Certifications
American College of Veterinary Dermatology
Publications and Research
Moriello, K., Coyner, K., Trimmer, A., Newbury, S. and

Kunder, D

. (2013), Treatment of shelter cats with oral terbinafine and concurrent lime sulphur rinses. Vet Dermatol, 24: 618–e150.

Moriello, K. A.,

Kunder, D

. and Hondzo, H. (2013), Efficacy of eight commercial disinfectants against

Microsporum canis

and

Trichophyton

spp. infective spores on an experimentally contaminated textile surface. Vet Dermatol, 24: 621–e152.

Newbury S, Moriella K, Coyne K, Trimmer A,

Kunder D

. (2015),

Management of endemic Microsporum canis dermatophytosis in an open admission shelter: a field study.

J Feline Med Surg, Apr;17(4):342-7.

Kunder, D. A.

, Cain, C. L., O'Shea, K., Cole, S. D. and Rankin, S. C. (2015), Genotypic relatedness and antimicrobial resistance of

Staphylococcus schleiferi

in clinical samples from dogs in different geographic regions of the United States. Vet Dermatol, 26: 406–e94.