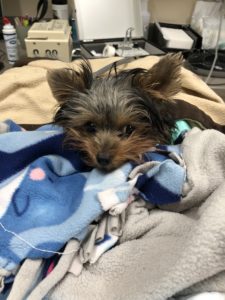 Friendship Internal Medicine
Unfortunately, some medical conditions are challenging to diagnose and manage. Maybe your companion's illness can't be detected through standard testing or isn't responding to current treatment options. In these cases, your companion may need to see a board-certified internist – a veterinarian with specialized post-doctoral residency training in the evaluation and treatment of internal diseases.
You'll be relieved to know that the most experienced and compassionate internal medicine team in the area is right here at Friendship Hospital for Animals. Our board-certified internists specialize in respiratory disease, endocrinology, hematology, gastroenterology, liver disease, nutrition, nephrology, urology, immune-mediated diseases, and infectious diseases, and more. Using cutting-edge diagnostics and techniques, they are able to find the root of the problem quickly and provide you and your primary care veterinarian with recommendations and a treatment plan, in some cases, the very same day.
Services offered:
Bone Marrow aspiration and biopsy
Endocrine Disease Management: Diabetes, Addison's and Cushing's Disease, thyroid disease, and others.
Endoscopy – Upper and lower GI endoscopy, rhinoscopy bronchoscopy, cystoscopy, and emergency foreign body removal. In some cases, foreign objects can be removed without the need for surgery.
Hemodialysis, hemoperfusion, and ultrafiltration therapy
Infectious Disease Management: Complicated bacterial infections, as well as fungal, tick-borne, and viral diseases.
Immune Mediated Disease Management: Polyarthritis, immune mediated hemolytic anemia (IMHA), thrombocytopenia (ITP), and other blood disorders.
Renal/Urinary Disease Management: Chronic and acute kidney disease, proteinuria and glomerular disease, urinary incontinence, ectopic ureters, urinary tract infections, and stone disease.
Respiratory Disease Management: Asthma, chronic bronchitis, chronic cough/nasal discharge, and tracheal collapse.
Advanced Imaging: Ultrasound and ultrasound assisted aspirates or biopsy, computed tomography (CT), MRI, radiographs (x-ray), and fluoroscopy.
How to schedule:
Consultations can be scheduled by contacting the internal medicine coordinator at 202-363-7300. Specialized treatment options including advanced diagnostics will be presented to you during the appointment. Minimally invasive diagnostic techniques may be a part of the internal medicine's evaluation and pets are usually able to return home the same day.