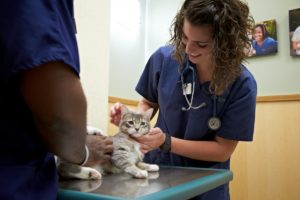 At Friendship, we know you want your companion to live a long and healthy life. Our primary care team is dedicated to providing you with high quality comprehensive care at every life stage. We believe that each pet is a family member and an individual with unique medical, dental, and nutritional needs. Our primary care doctors work closely together as a team and will guide you in your medical decisions and serve as a liaison should your pet need to be referred for specialty care. Continuity of care is vital to providing you and your pet with the best care. Please be sure to ask for your preferred veterinarian when scheduling an appointment. At your appointment you can expect a veterinary assistant to talk with you about your pet's general care and get a basic history if there are any problems. They can also give you advice on maintenance care such tooth brushing, ear cleaning or nail trimming, or on how best to medicate your animal. Be sure to relay all of you concerns so that working together, the doctor and assistant can provide you with answers to all of your questions.
Appointments
Friendship offers appointments for both wellness care and non-routine visits seven days a week. We offer appointments from 7am-10pm Monday thru Friday and 7am-3pm on both weekend days. We have fifteen primary care staff doctors who work as a team along with our specialists to ensure your pet received the highest quality of care available. Our primary care doctors have over 180 years of combined experience in primary care!
General Surgery
Our General Surgery staff perform elective, preventative, and emergency surgical procedures using state-of-the-art techniques and anesthesia protocols established by our board-certified anesthesiologist.
Dentistry
Whether your companion comes in for a routine cleaning or a crown amputation, you can feel confident knowing he or she will always receive the highest quality care from a team of veterinarians and dental technicians who are extensively trained in dental health and general anesthesia.