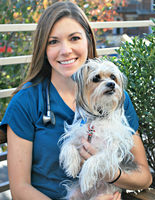 I grew up in a small, rural town of northern Maine. Although I always had a love for animals, I never had the intention of making it my career until I attended the University of Maine at Orono. While a pre-med major, I maintained several jobs which included working at our university dairy farm as well as working as a veterinary assistant at an emergency veterinary practice. It was the latter job that called me into the profession as it was the first time that I witnessed the loss of an animal and the greatest measure of love through the human-animal bond. From that moment of revelation until today, all I've known is caring for animals. I vowed to devote my life to learning and caring about the wonderful creatures we're blessed to learn from and live with as well as the family that loves and cares for them.
I am a mother to three very active children ages 4, 2 and 8 months, a wife to a very patient and supportive husband, and animal mom to 2 dogs and a cat! In my glory days I enjoyed running marathons, nowadays I spend my time running after children!
Clinical Areas of Interest
My interests are in Emergency Medicine and Critical Care. I love the challenges and rewards of dealing with difficult cases!
Education
North Carolina State University, D​VM 2010
University of Maine Small Animal and Pre-veterinary Science Major 2006