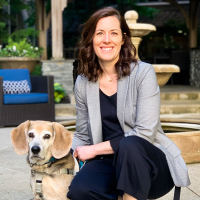 I am originally from a rural community in Kansas, which is where I first developed a passion for the well-being and care of animals. Because of this, I became interested in pursuing a career in veterinary medicine at a young age.
I completed my undergraduate school and veterinary school at Kansas State University. During my time at KSU, I assisted with research of canine and feline kidney disease, and also spent time researching treatment of infectious disease in cattle.
After veterinary school, I completed a small animal rotating internship, followed by a small animal surgery residency at the University of Georgia.
Why Do You Work at Friendship?
I value working in an environment where many different specialties can collaborate to offer advanced treatment options and excellent care for patients. Friendship also provides many opportunities for doctors and staff to continue to learn and stay current with progressive diagnostics and treatments.
Additionally, it is an added benefit that Friendship is located in a diverse city that is rich in culture and history.
Education
Kansas State University (2005-2008);
Kansas State University College of Veterinary Medicine, DVM (2008-2012);
University of Georgia, Small Animal Rotating Internship (2012-2013);
University of Georgia, Small Animal Surgical Residency (2013-2016).
Clinical Areas of Interest
Oncologic surgery

Thoracic surgery

Minimally invasive surgery

Surgery to address ACL injury
Board Certifications
Diplomate, American College of Veterinary Surgeons
Publications and Research
Journal Publications
Barbur L, Radlinsky M, Rawlings C. Epicardial exposure provided by a novel thoracoscopic pericardectomy technique compared to standard pericardial window. Vet Surg 2018;47:146-152.
Schnellbacher R, Divers S, Comolli J, Beaufrère H, Maglaras C, Andrade N, Barbur L, Rosselli D, Stejskal M, Barletta M, Mayer J, Rodriguez P, Quandt J. Effects of intravenous administration of lidocaine and buprenorphine on gastrointestinal tract motility and signs of pain in New Zealand White rabbits after ovariohysterectomy. AJVR 2017;78:1359-1371.
Shaver S, Barbur L, Jimenez D, Brainard B, Cornell K, Radlinsky M, Schmiedt C. Evaluation of gastroesophageal reflux in anesthetized dogs with brachycephalic syndrome. J Am Anim Hosp Assoc 2017;53:24-31.
Barbur L, Coleman K, Schmiedt C, Radlinsky M. Description of the Anatomy, Surgical Technique, and Outcome of Hemipelvectomy in 4 Dogs and 5 Cats. Vet Surg 2015;44:613-26.
Barbur L, Klocke E, Baker S, Towle H. Spontaneous resolution of post-operative chylothorax following surgical repair of persistent right aortic arch in two dogs. J Am Anim Hosp Assoc 2014;50:209-15.
Barbur L, Shuman C, Sanderson M, Grauer G. Factors that influence the decision to pursue an internship: the importance of mentoring. J Vet Med Educ 2011;38:278-87.
Coetzee J, Nutsch A, Barbur L, Bradburn R. A survey of castration methods and associated livestock management practices performed by bovine veterinarians in the United States. BMC Vet Res 2010;6:12-31.
Abstract Publications
Barbur L, Klocke E, Baker S, Towle H. Spontaneous resolution of post-operative chylothorax following surgical repair of persistent right aortic arch in two dogs. Conference Proceedings for the 11th Annual Scientific Meeting of the Society of Veterinary Soft Tissue Surgery (pp. 8).
Professional Presentations and Continuing Education
Barbur L, Thiman J. Surgical and Oncologic Management of Canine Soft Tissue Sarcomas. Saint Francis Veterinary Hospital Continuing Education Seminar-Atlanta, GA (2018)
Barbur L. Surgery of the Lower Urinary Tract. Saint Francis Veterinary Hospital Continuing Education Seminar-Atlanta, GA (2016)
Barbur L. Diaphragmatic Herniation. Grand Rounds, University of Georgia-Athens, GA (2016)
Barbur L. Indications and Techniques for Pericardial Surgery. Grand Rounds, University of Georgia-Athens, GA (2015)
Barbur L. Conditions Affecting Musculotendinous Structures of the Shoulder. Grand Rounds, University of Georgia-Athens (2014)
Barbur L. Septic Peritonitis Associated with Gastrointestinal Surgery. Grand Rounds, University of Georgia-Athens (2013)
Barbur L. Hemipelvectomy: Background, Indications, Technique Comparisons, and Complications. Grand Rounds, University of Georgia-Athens, GA (2013)
Barbur L. Factors that influence the decision to pursue an internship: the importance of mentoring. Science of Veterinary Medicine Symposium-Athens, Georgia (2012)
Barbur L. Spontaneous resolution of post-operative chylothorax following surgical repair of persistent right aortic arch in two dogs. Proceedings of the 11th Annual Scientific Meeting of the Society of Veterinary Soft Tissue Surgery-Traverse City, Michigan (2012)
Barbur L, Swanson J. Effect of different castration methods on the subsequent performance of bull calves. International Symposium on Beef Cattle Welfare-Manhattan, Kansas (2008)