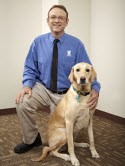 I have practiced at Friendship since 1992 and am proud to be a part of such a high quality animal care facility.
The importance and strength of the human-animal bond was taught to me at an early age. I helped my parents care for their beloved Siamese cats. My grandfather was a tough man who would dote on the smallest of dogs. His dogs were usually fed better than himself! I was a Phi Beta Kappa English student before deciding that caring for animals was more exciting to me than reciting Chaucer. I went to the University of Tennessee's College of Veterinary Medicine, graduating in 1992. After an internship at Friendship, I became staff emergency vet for several years before switching to daytime emergency, medicine, and surgery.
Throughout my career I have been supported (maybe maintained is a better word) by my very patient wife, Teresa. We have been blessed with four children: Kevin, Natalie, Rebecca, and Julia, the oldest born in 1993 and the youngest in 2001. Having played baseball through high school, umpired high school and college baseball, and dabbled in ice hockey, my dwindling abilities have been replaced by my new hobby of chauffeuring the children to their various sporting events, school activities, and ballets. I am an avid fan of the Orioles and Redskins. However, my heart, which they have broken too many times to count, belongs to my beloved Capitals. The four-legged family member is Emma the yellow lab.