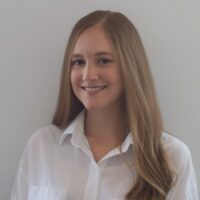 Growing up in La Parguera, a natural reserve on the island of Puerto Rico, I was exposed to marine and land wildlife from a young age and hence gained a love and appreciation for animals. I attended school at Southwestern Educational Society of Mayaguez (SESO). I completed a Bachelor of Science in Biology and a minor in Pre-Vet at the University of Puerto Rico – Mayaguez. During my undergraduate years, I volunteered at a local veterinary hospital while working in my college's dairy farm and swine unit. These experiences bolstered my passion for veterinary medicine, even though the main influence had always been my childhood dog Mia Lou, who I loved and cared for since the age of nine.
Following graduation and while awaiting the start of vet school, I worked for five months at Rebexa Inc., an agency in Mayaguez P.R. dedicated to handling the regulatory aspect of introducing veterinary medications to countries of Central America, the Caribbean, and the Andean region. Come August 2019, I moved to Philadelphia to obtain my VMD at University of Pennsylvania, School of Veterinary Medicine. Early in veterinary school, I developed a strong interest in small animal internal medicine. As a Latina woman in vet med, I was also interested in promoting and fostering diversity which I was able to do through the Penn Vet LVMA chapter as Service Chair.
Being from an island, my hobbies include spending my days at the beach or rivers, snorkeling, and deep-sea fishing. Here in the city, I enjoy seeking out good restaurants, hiking, working out, and playing sports. I am thrilled to intern at Friendship Hospital for Animals! I was drawn to Friendship because of the strong support system they provide their interns and the state-of-the-art medicine practiced here. I can attest that Friendship holds true to their values and I am excited and honored to be a part of the Friendship family.
Education
University of Puerto Rico-Mayaguez College of Arts and Sciences, B.S. in Biology 2019
University of Puerto Rico-Mayaguez College of Agricultural Sciences, Pre-Vet Certificate 2019
University of Pennsylvania, School of Veterinary Medicine, VMD 2023
Clinical Areas of Interest
Internal Medicine
Interventional Radiology
Medical Oncology