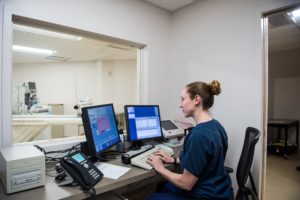 Diagnostic imaging is essential to providing an accurate diagnosis and quality veterinary care. For that reason, Friendship Hospital for Animals is equipped with advanced diagnostic imaging. This includes digital radiology, ultrasound, and state-of-the-art dental X-ray equipment. High-quality imaging facilitates accurate diagnosis, which guides our treatment plans and helps your pet get better sooner.
Friendship is proud to have on staff two board-certified radiologists, Dr. Elyshia Hankin and Dr. Joshua Hobbs—the only veterinary radiologists in the District. Our board-certified radiologists review all images that we produce. It is part of the Friendship difference and part of our commitment to your pet's health.
Diagnostic imaging techniques and equipment are non-invasive yet powerful tools that reveal a great deal of information about what is going on inside your pet's body—often eliminating more invasive procedures like surgery.
Digital Radiography
Radiographs (X-rays) are an indispensable tool in veterinary medicine. Images of our patients' internal systems allow us to acquire vital information.
Friendship Hospital for Animals produces digital X-rays vs. film, which provide the clearest images and can be viewed on the computer. Digital technology also enables us to manipulate the image to facilitate interpretation for a more accurate diagnosis.
Veterinary Ultrasound
Ultrasound is another non-invasive diagnostic device we have at our animal hospital. Many problems that cannot be diagnosed by radiology can be picked up in an ultrasound. It is useful in imaging the heart (we can actually watch how effectively it beats) and organs in the abdomen (such as the liver, spleen, and bladder). Since ultrasounds are moving, real-time images, they are better than X-rays for diagnosing some conditions.
MRI and CT
Friendship offers both magnetic resonance imaging (MRI) and computerized tomography (CT). These modalities enable Friendship to offer imaging capabilities equivalent to those available in the finest human hospitals. Friendship's commitment to your pet's health keeps us at the forefront of veterinary medicine on a national (as well as local) level.