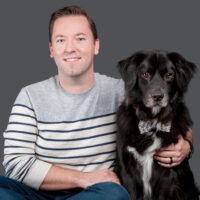 I am originally from Woostock, New Brunswick, Canada.  I attended the Atlantic Veterinary College, followed by an Internship at the Ontario Veterinary College.  I completed a residency in Emergency and Critical Care from North Carolina State University in 2016, before moving to South Florida to practice in two, large referral hospitals.  During my time as a Director of Emergency and Critical Care, I developed a passion for minimally invasive interventional procedures.  This led me to undertake a second residency in Cardiology at North Carolina State University, which I completed in July 2023.
There are many things I love about practicing Cardiology.  I have a passion for interventional procedures and have extensive experience in the management of several congenital and acquired heart defects, including ACDO occlusion of Patent Ductus Arteriosus, Balloon Valvuloplasty and Pulmonary Valve Stenting for Pulmonary Valve Stenosis, Pacemaker implantation, diagnostic right and left heart catheterization, balloon membranostomy of Cor Triatriatum Dexter, and heartworm retrieval in Caval Syndrome, among others.  It is incredibly rewarding to intervene in puppies and kittens with heart disease and give them a long and healthy life.  With my background in Emergency and Intensive Care Unit Medicine, I also enjoy inpatient management of critically ill and complex cardiopulmonary cases, including heart failure and arrhythmias.  Lastly, and perhaps most importantly, the relationships that are built with clients, their pets, and their family veterinarians while managing chronic heart disease are both rewarding and fulfilling for me.  I prefer to be a partner in a patient's care, involving the clients and their family veterinarians in all management decisions and follow up.
Education
Acadia University, Bachelor of Science with Honors in Biology

Atlantic Veterinary College, Doctor of Veterinary Medicine

North Carolina State University, College of Veterinary Medicine, Emergency and Critical Care Residency

North Carolina State University, College of Veterinary Medicine, Cardiology Residency
Board Certifications
Diplomate, American College of Veterinary Emergency and Critical Care
Publications and Research
The RAPACAT Study: A double-blinded, randomized, placebo-controlled clinical trial of a novel veterinary rapamycin product in feline subclinical hypertrophic cardiomyopathy Joanna L. Kaplan, DVM, DACVIM (Cardiology); Ashley L. Walker, DVM; Victor N. Rivas, MS; Louise Grubb, BSc, MBS; Aisling Farrell, MPSI, MSc, PGCert; Stuart Fitzgerald, MVB, MANZCVS; Susan Kennedy, BSc, PhD; Carina E. Jauregui, RVT, RLAT; Amanda E. Crofton, DVM; Chris McLaughlin, DVM, DACVECC; Rachel Van Zile, DVM; Teresa C. DeFrancesco, DVM, DACVECC, DACVIM (Cardiology); Kathryn M. Meurs, DVM, PhD, DACVIM (Cardiology); Joshua A. Stern, DVM, PhD, DACVIM (Cardiology)
Sutton B, Long Mays E, McLaughlin C. Case Report: Successful Reperfusion of Pulmonary Thromboembolism Using tPA in a Cat. Front Vet Sci. 2022
Hanel, RM, Birkenhauer, AJ, Hansen, B, Harrel KA, Jack, J, Marks SL, McLaughlin C, Motsinger-Reif, AA, Musulin SE, Ruterbories, L, and Dorman, D. Thromboelastography or Activated Partial Thromboplastin Time for Heparin Anticoagulation to Prevent Thrombosis: The TOP HATT Trial. Abstract. Presented at the International Veterinary Emergency and Critical Care Symposium. Nashville, TN, USA. Sept 13-17, 2017.
McLaughlin, C. 2015. Foreign Bodies. In Five Minute Veterinary Consult Clinical Companion: Small Animal Toxicology, 2nd Edition.
McLaughlin, C, Hanel, R, Marks, S. et al. 2015. Thromboelastographic monitoring of the effect of unfractionated heparin in healthy dogs. Journal of Veterinary Emergency and Critical Care. 2017 Jan; 27 (1):71-81.
McLaughlin, C. 2008. Microsatellite analysis of population structure in the Eastern Ribbonsnake, Thamnophis sauritus. BScH Thesis. Acadia University, Wolfville, N.S.
Works in Progress:
McLaughlin, C., DeFrancesco, T. Pattern and Timing of Resolution of Lung Ultrasound B lines and Pulmonary Auscultation in Hospitalized Dogs with Cardiogenic Pulmonary Edema.  Funded by the ACVIM Pacemaker Grant.
Tucker, S., Posner, L., McLaughlin, C. Risk of Pulmonary Complications in Dogs Undergoing Neuromuscular Blockade for Interventional Procedures.