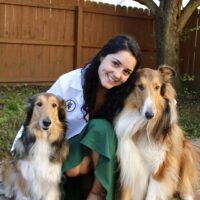 I've been fortunate enough to have had my fair share of adventures across state lines, calling Oklahoma, Mississippi, Wisconsin, Missouri, and Maryland home at different stages of life. I lived in Wisconsin the longest at 10 years, and moved to Missouri after graduating high school, where I completed a Bachelor of Health Sciences at the University of Missouri in 2019. Throughout life, I had always felt deeply connected to animals of all shapes and sizes, and pondered being a veterinarian since I was a young tot. In college, I solidified my goals to become a veterinarian, and also developed my strong passion for the human-animal bond and One Health, which incorporates the health and well-being of people, animals and the environment.
Following college graduation, I attended the University of Missouri College of Veterinary Medicine where I completed my Doctorate in Veterinary Medicine and my Masters in Public Health. Outside of my primary interest in companion animal medicine, I have also developed a strong interest in addressing mental health in the veterinary profession, as well as Large Animal Technical Rescue and disaster response. I plan to utilize my degrees to be involved in organizational medicine in the future where I will hopefully make a lasting impact on critical topics like mental health in veterinarians/veterinary students, One Health, and the human-animal bond. After this internship, I am interested in becoming an emergency and/or general practice veterinarian.
Outside of work, I enjoy hiking, being outdoors, volleyball, drawing and painting pet portraits, cooking, exploring new restaurants and places, and spending time with my partner, two Collies and two cats.
Education
University of Missouri-Columbia, B.H.S. in Health Sciences, 2019
University of Missouri-Columbia, MPH with emphasis in Veterinary Public Health, 2023
University of Missouri College of Veterinary Medicine, DVM, 2023
Areas of Clinical Interest
Emergency medicine

Internal Medicine

Nutrition

Behavior

Preventative Medicine and Wellness