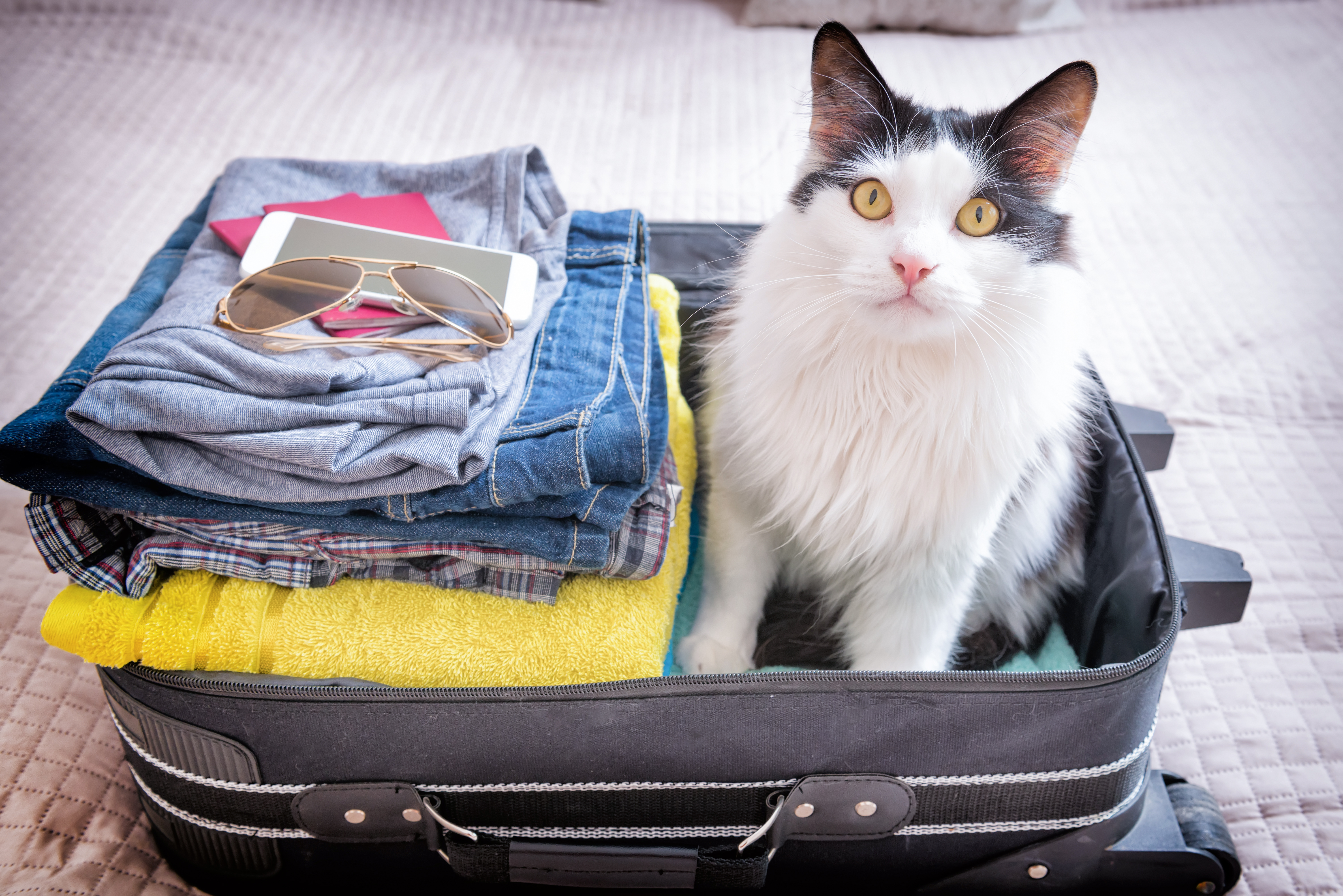 What should I think about when deciding to travel with my pet?
Make sure your pet is comfortable with travel. Some pets cannot handle travel because of illness, injury, age or temperament.

If your pet is not good with travel, you should consider a reliable petsitter or talk to your veterinarian about boarding facilities in your area.
Most will require updated vaccines.

Make sure your pet has identification tags with updated information to include microchipping.
If you are taking your pet across state of international borders, a health certificate as well as other documentation may be required.

Please note that flying with pets will require health certificate signed by an accredited veterinarian within 10 days of travel. Do NOT do this at the last minute! If you are traveling internationally, preparation usually takes upwards of 6 months ahead of time due to requirements of other countries and appropriate documentation
Different modes of travel
Traveling by plane
Always check with airlines because they may have restrictions on breed and size
Talk with your veterinarian about the acclimation certificate (Federal Regulation Animal Welfare Act)

Airlines cannot ship animals if temperatures will be higher than 85 degrees or less than 45 degrees for more than 4 consecutive hours while the animal is in the holding area or more than 45 minutes when the animal is moved between the terminal and the plane.

What about sedation?

It is recommended that you DO NOT give tranquilizers to your pet when traveling by air because it can increase the risk of heart and respiratory problems. Short nosed dogs and cats sometimes have even more difficulty with travel.

It is best to purchase an approved crate prior to travel so that you have time to let your pet get used to the crate and be comfortable.
Traveling by car
If your pet does not ride well in a car, consider leaving your pet at home, with friends of family or in a boarding facility.

If you don't often take your pet in the car, start with short trips to "fun" destinations to help your pet get used to riding in a car.

Talk to your veterinarian about medications to help with motion sickness.

Make frequent stops (every 2-3 hours) to allow your pet to go to the bathroom or get some exercise.
Properly restrain your pet in the car to prevent injury to your pets, you and to other drivers.
Do not let your pet ride in the back of a truck bed.
Pets should not be allowed to ride with their heads outside the window. Dirt and other debris can cause injury to eyes/ears/nose.
Pets should not be allowed to ride on the driver's lap or near the driver's feet. Small pets should be confined in crates or in travel safe dog beds and larger pets should be appropriately restrained with harnesses attached to car seat belts.
Cats should be transported in carriers.
Bring a familiar blanket or safe toy to help your pets more comfortable during the trip.
Never leave your pet in the vehicle without you-especially true when very hot or very cold outside.
What should I bring with me on my trip?
Your veterinarian's contact information
List of veterinarians and 24 hour emergency hospitals along the way and close to your destination
ASPCA Poison Control phone number – 888-426-4435
Identification

Current color photo of your pet
ID tags with owner's name, current home address and home phone number
Contact information for your local accommodations
Updated microchip information
Medical records-especially true if your pet has a pre-existing condition and list of medications (take picture of medicine vials!)
Prescribed medications
Collar, harness, leash
Crate, bedding, blankets
Toys
Food and water to include dishes
Consider first aid kit as well
For more information regarding Traveling with your pet view the AVMA's FAQ's.