"Skip to My Lou"……..Why My Pet Skips When Walking the Beat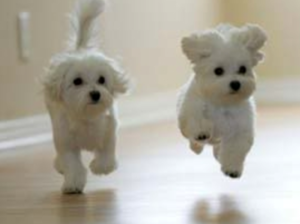 Ever see your pup hop and skip when walking around town? Sure, sometimes its cute and doesn't seem to bother them much, but did you know that this type of walk may indicate an orthopedic issue? Pets knee caps, a.k.a. patellas, and their luxation (or dislocate) from their normal location may be to blame for this type of gait. The knee cap lives inside of a "valley" of sorts on top of the knee and should flow up and down seamlessly. Orthopedic changes can cause the cap to go "over the valleys ridge" and cause them to hop. While most pets adapt to this change, underlying arthritis may be developing and causing them some discomfort. Chatting about this with your vet on ways to diagnose and reduce arthritis development can be very helpful.
Dr. Diaz graduated from the University of Florida and joined Friendship in 2015. Dr. Diaz completed her internship at Friendship in 2016 and has been a staff doctor ever since. Her professional interests include shelter medicine and international outreach.
*Featured image courtesy of Pinterest.