What is CPR? How helpful is it from a pet owner's perspective?
Cardiopulmonary resuscitation, also known as CPR, is an emergency first aid technique that sustains blood flow to the brain and heart in the event of cardia arrest. CPR entails chest compressions, assisted breathing, and advance life support measures including medications and defibrillation.
Cardiopulmonary arrest occurs in pets for different reasons compared to human. Many people think they are familiar with the process from watching both medical TV shows and movies where actors/actresses will awake after a few pumps on the chest. This, unfortunately, is not the reality. Pets do not have heart attacks and when they suffer cardiac arrest, they do so because they have a serious systemic illness. CPR may not be enough to sustain life in a pet. The current reported success rate in the veterinary population in the hospital setting is pretty variable (from 6-8% vs. 50% in anesthetic related arrests.)
Why are rates so low? What is RECOVER?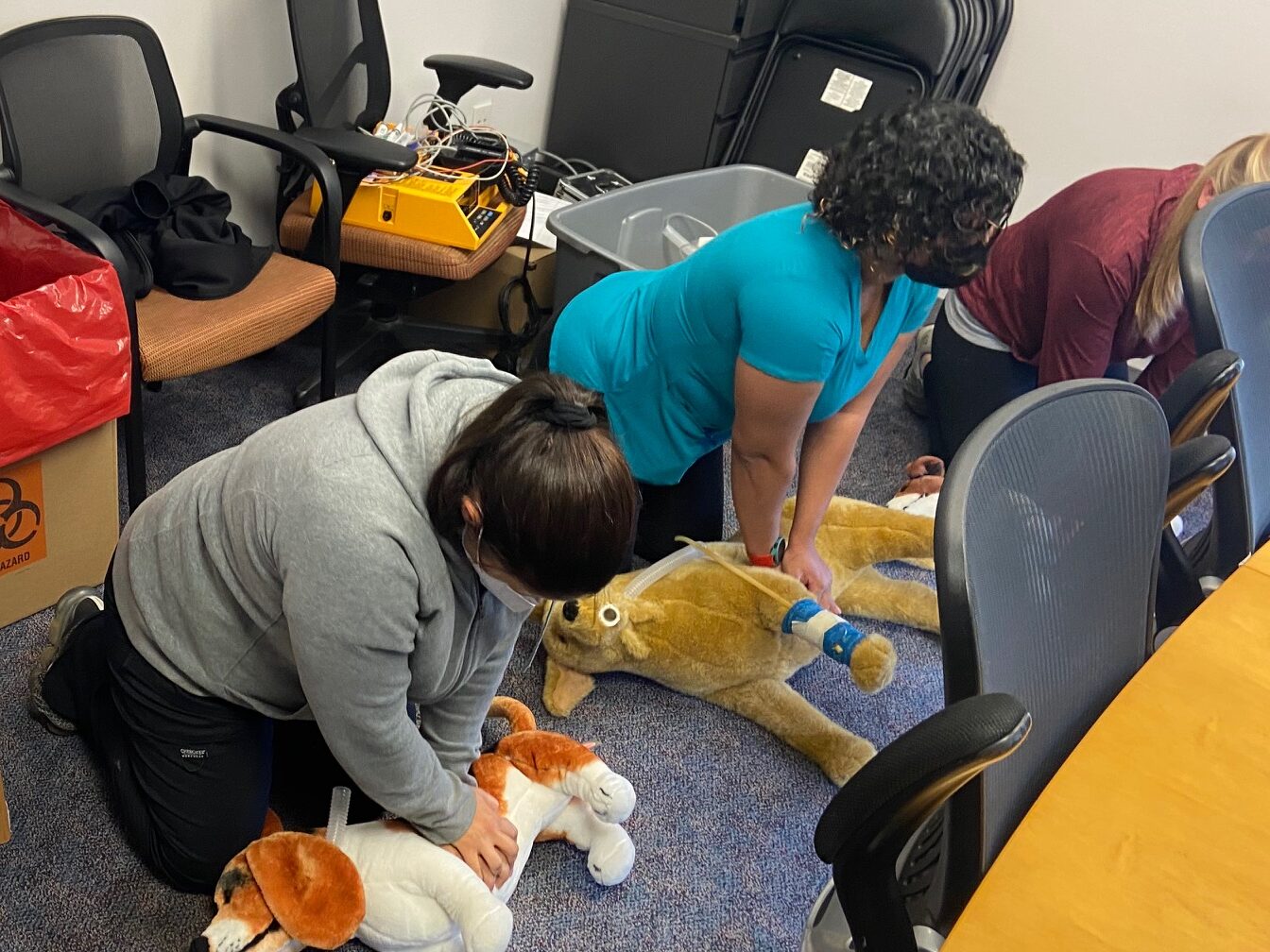 Within the veterinary hospital setting (non-anesthesia related cardia arrest) with a highly trained staff, well stocked pharmacy, intravenous catheters, breathing tubes and machines to support oxygen delivery – reported success rate is only 6-8%. This means 6-8 out of every 100 patients that suffer cardiopulmonary arrest will survive and leave the hospital, while the survival rate in people is over 20%. Until the advent of evidence-based guidelines and standardized training in human medicine (through American Heart Association and the Red Cross), survival rates in people were similar to animals. No such standardized guidelines or training existed in veterinary medicine, which has led to extreme variability in the approach to CPR and has likely contributed to the poor outcomes in dogs and cats with cardiac arrest.
In 2012, the Reassessment Campaign on Veterinary Resuscitation (RECOVER) initiative, a collaborative project supported by the Veterinary Emergency and Critical Care Society (VECCS) and the American College of Veterinary Emergency and Critical Care (ACVECC) involving over 100 board-certified veterinary specialists from around the world reviewed the experimental and clinical evidence in CPR research and devised a series of evidence-based guidelines for dogs and cats…
The hope is that by taking cues from human counterparts and standardizing algorithms, we can improve these rates. Currently, there are approximately 250 certified RECOVER veterinary instructors worldwide. One of our own, Dr. Christine Klippen, is one of these instructors.
The technical staff at Friendship is currently undergoing the rigorous certification process. They must complete an 8-hour online didactic training program, prior to a 6-hour in-person hands-on lab, where they must demonstrate (though simulated learning and mannequins) their understanding of both Basic Life Support and Advanced Life Support training.
What about pet owners? Is there something that I can do at home prior to getting to an emergency hospital?
First and foremost, the safety of the pet owner is paramount. If completing CPR will delay transport to the nearest animal hospital, or put you at risk, you should focus on immediately getting to the hospital.
For those pet owners that still would like to learn to prepare themselves in the event of an emergency, the RECOVER initiative has created an online training program. For more information, visit recoverinitiative.org.