We write you today with some very exciting news. As of May 18th, Friendship has merged with Encore Vet Group. With notable cultural and philosophical alignment, and a shared passionate commitment to veterinary medicine, Friendship and Encore are excited to serve the DC community together.
For the past 85 years, Friendship has been a Tenleytown mainstay. As the only 24-hour veterinary hospital in the District – and leader in state-of-the-art primary and specialty care – we understand the importance of your trust and support. Please note, no disruption to client service or patient care is expected. Dr. Peter Glassman, former Director of Friendship said, "We were looking for a partner who would be a guardian of the Friendship legacy and culture. We are confident that Encore will maintain the quality of care of patients, clients, and staff which is integral to who we are."
Friendship's former Chief Operating Officer, Kieran Mara, whom many of you have to come to know over his 21 year tenure, will take over as Hospital Director.
Please join us in congratulating Dr. Peter Glassman, on this new chapter of his life, as well as the entire Friendship staff for their tireless hard work and dedication.
We look forward to expanding our services and continuing to elevate the veterinary profession.
A fond farewell to Dr. Glassman
After 42 years of leading Friendship, we are saying goodbye to Dr. Peter Glassman.
here's no way I can adequately sum up this amazing career in a few short paragraphs. Dr. Glassman has been a pioneer in the veterinary community and has grown Friendship to be one of the largest practices in the United States with an unmatched national reputation for high quality medicine. More than that, he has fostered a culture within the hospital which makes it a great place to work. His priorities have always been focused on client service, practicing the best medicine, and taking care of those people who take care of your pets.
Dr. Glassman grew Friendship from a small three doctor primary care practice to the premier hybrid primary care, emergency and specialty hospital with over 65 doctors on our team. He's thought outside the box to add services like dialysis and to lead us through an expansion where we built an entire floor on top of the hospital that we kept fully operational below. He's pushed us over and over to be our best.
I've had the pleasure of working for Peter for the last 21 years. When I met him, I knew he was a special guy. He lives his values. He has been an excellent mentor, a great partner to work with, a father figure and a great friend. I have tremendously big shoes to fill and I will do my best to preserve his legacy.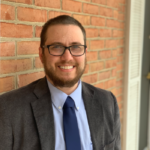 Kieran Mara
Hospital Director
Friendship Hospital for Animals