Poppy came to Armour Veterinary Ophthalmology for excessive tearing. She was diagnosed with lower lid entropion in both eyes. Entropion is an eyelid disease in which the eyelids turn inwards. The hairs on the outside edge are in contact with the corneas, causing squinting, tearing and irritation. If the hairs and resulting corneal ulceration is not addressed, there is a possibility of corneal perforation and blindness. This eyelid disease can occur in cats and dogs, and is common in younger animals. Dr. Armour performs a corrective procedure which corrects the eyelid margin by replacing it to a normal position. There are many types of blepharoplasty procedures; most commonly, a hotz celsus procedure with or without eyelid shortening is recommended. These procedures can be relatively straight-forward, or can be extremely complex based upon the appearance, chronicity and severity.
Poppy before surgery

Poppy after surgery
---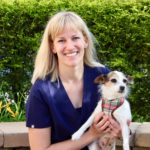 DC-area native Dr. Micki Armour attended Holton-Arms School in nearby Bethesda and grew up bringing her pets to Friendship. She graduated from the University of Pennsylvania's School Of Veterinary Medicine and completed an internship at Red Bank Veterinary Hospital. After a three-year residency in Tustin, California, Dr. Armour became a board certified Diplomate of the American College of Veterinary Ophthalmologists. Dr. Armour founded Armour Veterinary Ophthalmology and joined Friendship in 2018.

---