Winter Tips for Your Pet's Paws
We're all waiting for spring, but in case March comes in like a lion, we wanted to share some pet paw winter safety tips.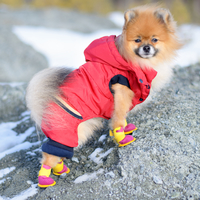 The New York Times recently noted the desire to "winterize" our dogs with clothes. Not every dog will tolerate boots, and not every dog will need boots. If you choose to put boots on, make sure that they're not so tight as to cut off circulation, especially if they have an elastic-type opening. Make sure that the boots don't cause pressure sores. Improper wear can affect the normal gait and potentially contribute to new or worsen existing orthopedic issues. The right type of boot can help keep the paws dry, clean, and protected.
If your pet doesn't wear boots, then you can protect the paws in other ways. Check for any cuts or wounds even before going outside. Petroleum jelly and other waxes can offer some protective coverage to the paws. Many mushers (drivers of dogsleds) swear by these products. However, not all ingredients are safe, and licking of topicals can potentially cause adverse effects.
There are some rock salts and sands that can be irritating to pet's paws. There are some ice melts that are marketed as pet-safe. For example, at Friendship Hospital for Animals, we use "Industrial Blue" ice melt. Regardless of the product used, it remains important to minimize licking and ingestion.
If your pet's paw is visibly dirty, then you can safely clean intact skin with warm water, Epsom salts, or chlorhexidine solution. These are all available over-the-counter; Epsom salts need to be diluted appropriately, but veterinarians often use undiluted chlorhexidine for intact skin. Be gentle, and make sure to dry the paws well afterwards. If you use a hairdryer, make sure it is on the cool setting.
While our pet friends may sometimes be stoic, it's important to remember that they can still get frostbite. Certain breeds are able to tolerate the cold, but there's a reason poodles don't run the Iditarod routinely. Evidence of frostbite (ex. darkened skin, surrounding pain) may not appear immediately. Keep your pets indoors when there is cold weather, especially if temperatures are freezing.
If there is concern about extended cold exposure or if something seems "off" about your pet, paw or otherwise, it's always safest to check in with your veterinarian first. In the meantime, enjoy the winter weather with your pets, whether cuddled up inside or playing in the snow!
Dr. Fiona Lee earned her veterinary degree from the University of Pennsylvania and completed a rotating internship at BluePearl Veterinary Partners in New York City. Dr. Lee returned to the University of Pennsylvania for her dermatology residency and joined Friendship Dermatology Specialists in 2016.