Way to Go Bo! Tales from a Veterinary Neurologist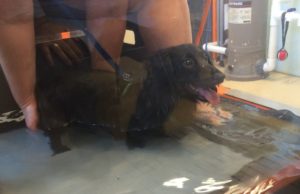 Bo is a 5-year-old, neutered male Dachshund that has been relatively healthy for most of his life. One day in late July 2015, Bo's owner noticed that he wasn't acting like himself.  He was quiet and hiding with a decreased appetite- very unlike the usually happy and food-motivated dachshund he'd always been. Bo's dad took him to an emergency clinic where he was hospitalized overnight and was started on pain medications.  However, despite the supportive care and strict rest, Bo continued to decline. A few days later, Bo's owner brought him to Friendship Neurology Specialists for further evaluation.
An exam by our veterinary neurologist, Dr. Lindsay Boozer, identified a serious issue in Bo's lower back that had left him unable to move or feel his back legs. An MRI revealed a herniated intervertebral disc severely pressing on his spinal cord. After a long discussion, Bo's dad and Dr. Boozer decided that Bo's best chance was to have surgery to remove the herniated intervertebral disc material that was causing Bo's problem, even though his chances to walk again were not good. Bo was immediately wheeled into the operating room to do everything that could be done to help get him back to his old self.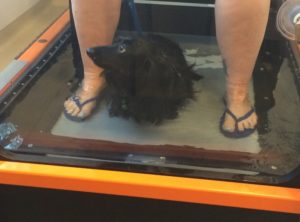 After surgery, Bo seemed much more comfortable, but continued to be unable to use or feel his back legs. After several days in the hospital Bo went home to continue his recuperation. Bo's family was very attentive to his needs as he continued to heal. They helped him every day to be as clean and comfortable as possible. Dr. Boozer recommended that Bo see our Rehabilitation Therapist, Janay Austin-Carlson, to help keep Bo's muscles strong despite not using them to walk. Bo, however, had a different plan! A few days later, Bo arrived to his physical therapy consult and started walking around the room unassisted! He continues to see Janay to help continue to build his strength using our underwater treadmill.
We are so happy with the progress Bo is making and appreciate all the care his dedicated owner has given him. Way to go Bo!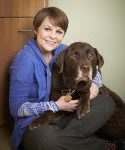 Dr. Lindsay Boozer is the head of Friendship Neurology Specialists at Friendship Hospital.  She graduated from the University of Georgia College of Veterinary Medicine in 2008 and then completed a rotating small animal medicine and surgery internship at Red Bank Animal Hospital in Red Bank, NJ. This was followed by a research fellowship at North Carolina State University College of Veterinary Medicine studying brain tumors and encephalitis in dogs. She then returned to UGA for a neurology specialty internship and residency before joining Friendship in 2014.
* All images courtesy of Friendship Hospital for Animals.