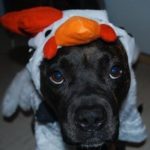 Halloween Candy and Dogs
Fall is upon us, and Halloween is right around the corner.  Children love chocolate, but so do dogs.  Unfortunately for dogs, chocolate ingestion can be lethal.  Chocolate contains theobromine and caffeine, which, if ingested in large enough quantities can cause high heart rate, heart arrhythmias, seizures, agitation, and difficulty walking.  The severity of signs depends on the size of the dog and the amount of chocolate that was ingested.  Baker's chocolate and dark chocolate contain higher amounts of toxins than milk chocolate, and can cause more severe signs when ingested in lower quantities.
So, what should you do if your pet gets into the Halloween candy?
You should call the hospital to find out if the amount of chocolate ingested is high enough to cause adverse effects.  If your pet is already showing signs of seizures, hyperactivity, racing heart rate, or difficulty walking, he or she should be seen right away by the emergency service.
If your pet is seen within several hours of ingestion, we generally will ask for permission to induce vomiting to remove any undigested chocolate from the stomach.  We will also administer a charcoal fluid to help absorb any leftover chocolate in the GI tract.  If the amount ingested is high enough to cause heart arrhythmias or seizures, we will recommend admitting them to the hospital for 12-24 hours for intravenous fluids and heart rate monitoring.  We treat signs such as heart arrhythmias or seizures, if they occur.  Chocolate can also cause GI upset and possible pancreatitis (inflammation in the pancreas).  Signs can include vomiting, diarrhea or decreased appetite, and can last for several days after ingestion.
The prognosis for chocolate ingestion is generally good if veterinary care is sought right away.  Please keep all chocolate and Halloween candy out of the reach of your pets.  Happy Trick-or-Treating!
Dr. Nicola Moore was born and raised in Silver Spring, MD.  She received her DVM from the Virginia-Maryland College of Veterinary Medicine and completed a one-year rotating internship at Friendship before joining the team as a full-time staff doctor in 2009.  Dr. Moore works in both our Primary Care and Emergency & Critical Care departments.
*Featured image courtesy of Dogtime.