From the Director…
I'd like to write today about Friendship's commitment to pet healthcare and what makes Friendship so very different.
Let me begin by saying that there are many excellent pet healthcare facilities in the area where pet owners can be confident that their four legged family members will be well cared for.  I've always believed that one of the great strengths of the veterinary medical profession is the diversity of practices that offer services to pets.  From small one and two person practices to large primary care facilities to specialty practices to corporate mega practices with hundreds of "units," each kind of practice has something to offer both to those working in the practice and to pet owners taking advantage of that practice's services.
But Friendship is distinctly different.  Friendship is a hybrid practice.  This means that we offer both primary care – i.e. routine wellness care and hospitalization services – and specialty care provided by board certified veterinarians who are experts in their field.  Friendship currently has on staff specialists in surgery, radiology, neurology, critical care, internal medicine, oncology, anesthesiology, and clinical pathology.  In addition, Friendship is fully staffed twenty-four hours every day of the year for emergencies and urgent care.  When we say Friendship offers "comprehensive" care, this is what we mean – primary, specialty and emergency care.
Providing primary care, specialty care, and emergency care under one roof offers distinct advantages to pet owners and their pets.   From a quality of care standpoint, primary care doctors continually consult with specialists, such that even if your pet is not formally referred to a specialist, your primary care veterinarian has the benefit of his input.  Often these consultations go on "behind the scenes" and owners are unaware their pet is benefiting from the on-site specialist.  Having a broad spectrum of specialists on staff means that the standard of care of the entire facility is raised significantly.
Offering comprehensive care service enables Friendship to provide medical facilities that are virtually unrivaled in the country.   The enhanced physical plant (second floor, CT, MRI, etc) will be the subject of another post, but suffice it to say, they are a commitment on our part to your pet's well-being that would not be possible if the scope of our care was more limited.
From a convenience point of view, it's good to know that the same hospital that you have visited many times for routine care is the same one that will be there if you have an emergency or if you need a neurologist or oncologist for your pet.  You do not need to travel to the suburbs for specialized care.  You can visit your companion not far from your home if she is hospitalized any time you would like.  If you are at Friendship for specialty care, your primary care vet will know your pet is being seen by the specialist and can look in on him/her.  If you are using Friendship's emergency services, how much more comforting would it be to go to an emergency room with which you are already familiar and who you know will have your pet's medical records already in hand.  Instead of visiting a far off referral or emergency center, you are taking advantage of a hospital whose facility and standard of care are well known to  you.
Offering such a broad scope of services – specialty, primary, and emergency – enables Friendship to attract the very finest team members.  All of our team is proud to work here.  For veterinary professionals, being able to interact with specialists and other veterinarians who have all had post graduate clinical training is very rewarding and not something that most veterinary hospitals can offer.  For our lay professional staff, being part of a team of professionals who are compassionate about their patients and passionate about their work is very attractive.  We are fortunate to be able to hire the finest team members from highly qualified applicant pools.
"Comprehensive care" is not a marketing phrase or hollow slogan.  As a hybrid hospital offering primary, specialty and emergency care, it is how we view our commitment to pet owners.  And while comprehensive care has distinct advantages, just offering a lot of services does not, by itself, speak to the quality of those services.  In future posts, I will address two topics that I have touched on here – our facilities and our team members – in more detail.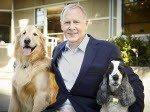 Dr. Glassman has served as Director at Friendship for over 30 years.  A native Washingtonian, he attended Sidwell Friends School and graduated from Cornell University College of Veterinary Medicine in 1978. 
* All images courtesy of Friendship Hospital for Animals.