Friendship Hospital for Animals is Going Greener
Friendship Hospital for Animals is going greener. With a green roof that is! During the hospitals extensive expansion in 2015 a green roof was added to further the hospitals commitment to alleviating our carbon footprint. Compared to a conventional roof, a green roof has several benefits not only for the hospital, but also for the surrounding community. The most obvious being that a green roof is much more enjoyable to look at than a conventional roof and helps improve health for people, plants, and animals, but aside from that fact, a green roof extends the life of a roof. Green roofs can last up to three times longer than a conventional roof. They protect the roof and roofing materials from the direct ultra-violet radiation and extreme temperatures; therefore, the roof structures wear and tear is reduced.
Green roofs also reduce the heat island effect. The heat island effect is any area – metropolitan, urban, or rural – that is significantly warmer than its surrounding areas due to human activities. On a hot day, one particular area can be ten to twenty degrees hotter than the surrounding areas. Green roofs stay forty to fifty degrees cooler than conventional roofs; therefore, reducing the ambient air temperature in the area.
Another reason why a green roof benefits the surrounding community is that they improve air quality. Green roof vegetation metabolizes airborne particles such as smog, sulfur dioxide, and carbon dioxide.
The surrounding community will also benefit from the green roof reducing storm-water run-off. Just like a garden at your house, a green roof consists of live plants buried in soil. Therefore, when it rains or precipitates the green roof absorbs and collects the water. In the summer, a green roof can retain seventy to one-hundred percent of storm-water. While during the winter, forty to fifty percent of storm-water is retained. This reduces the volume and velocity of water that pours off building roofs which contributes to erosion and sedimentation.
The above-mentioned benefits are just a sampling of what a green roof can provide.
Friendship Hospital for Animals' total roof is 1,740 square feet, where the green roof is approximately half of that. The rest of the roof is occupied by our outdoor K9Grass space, which is used to walk canine patients instead of on the sidewalks. Friendship's green roof is comprised of 1,014 hydropacks. A hydropack is already pre-filled with the soil and vegetation; rather than composing the differing layers of the waterproof membrane, substrate, and plantings individually. This way the vegetation is already established making the green roof very easy to maintain. Each hydropack is 16 x 24 x 3.5 inches (W x L x H) and connect together.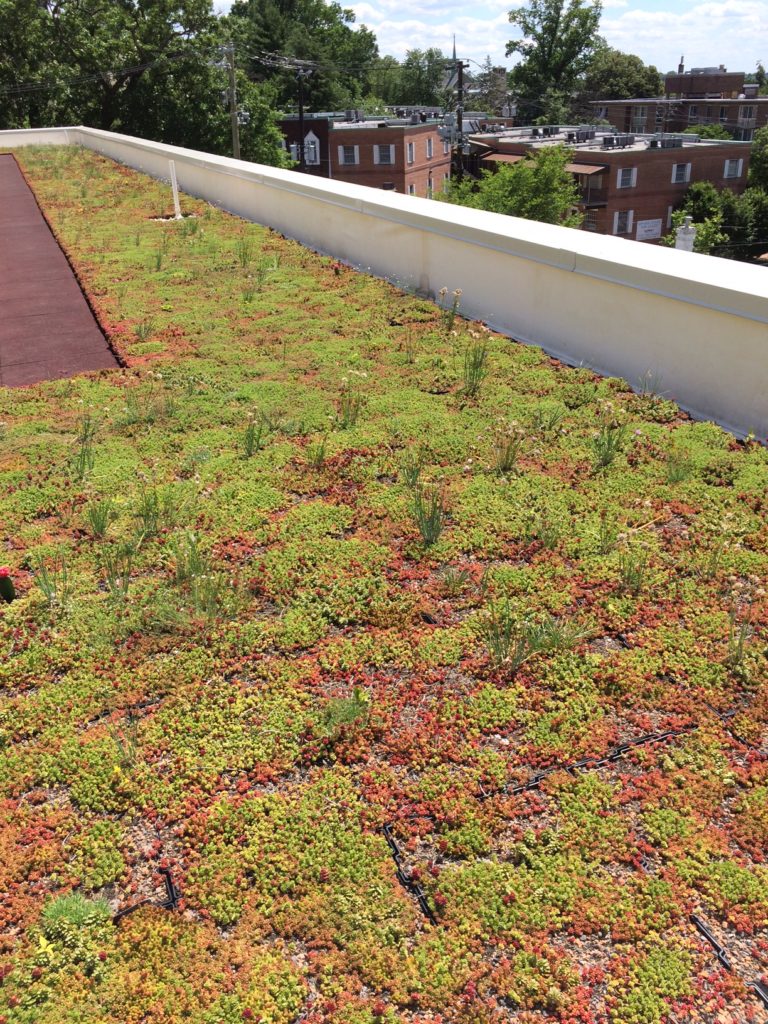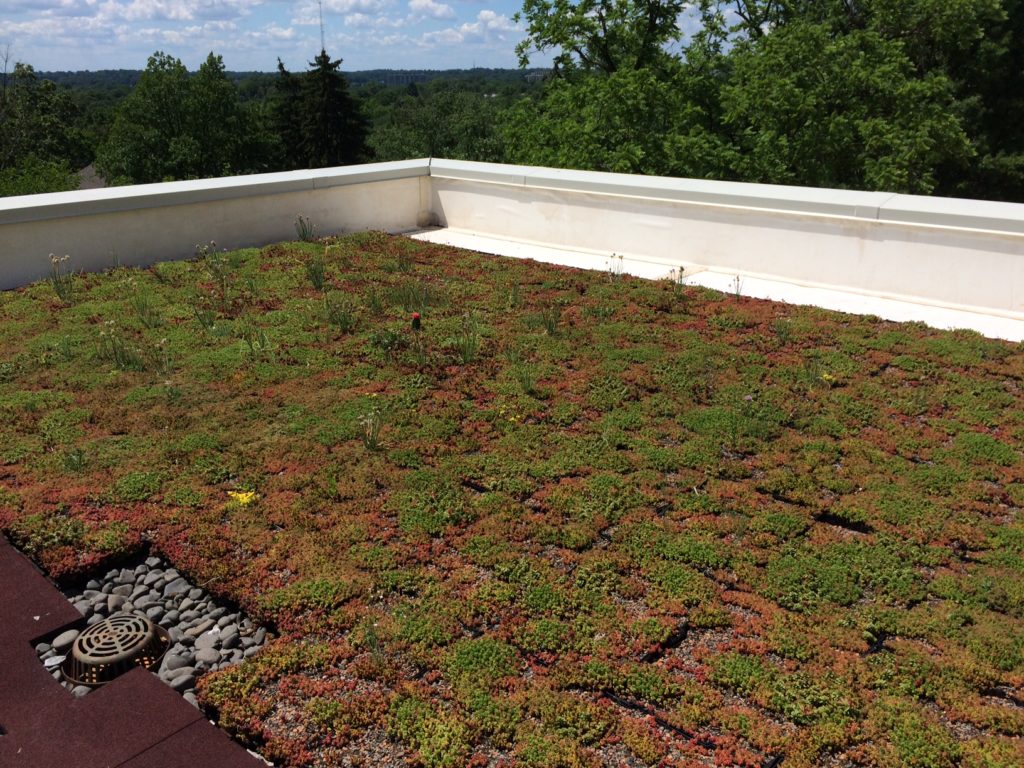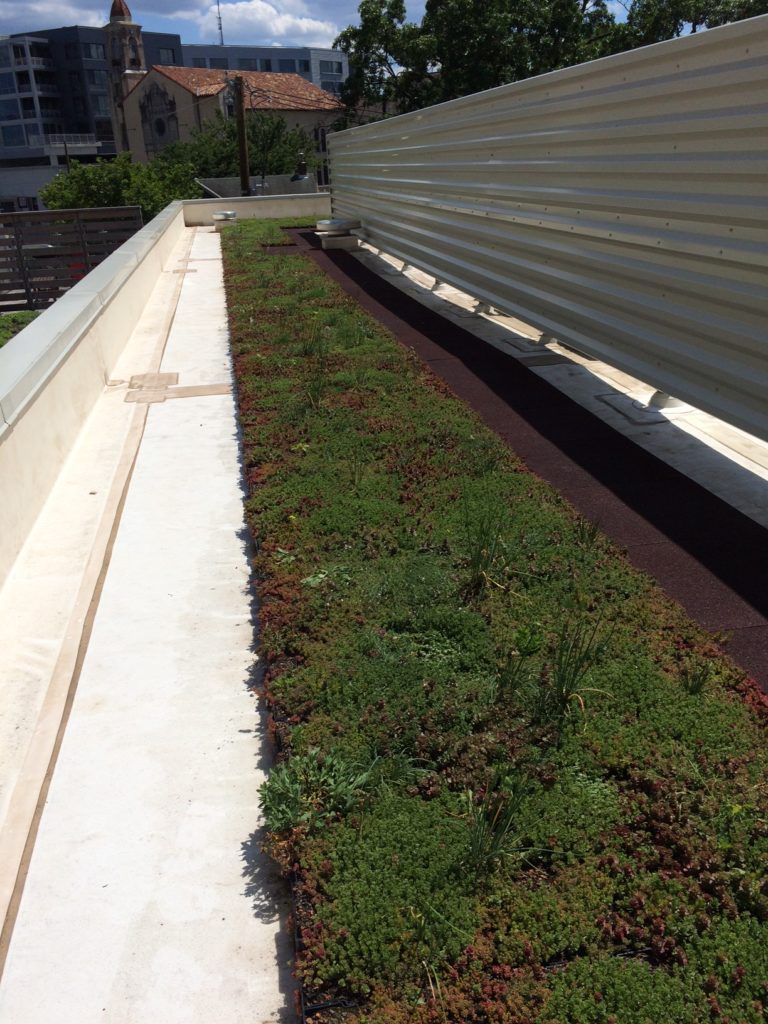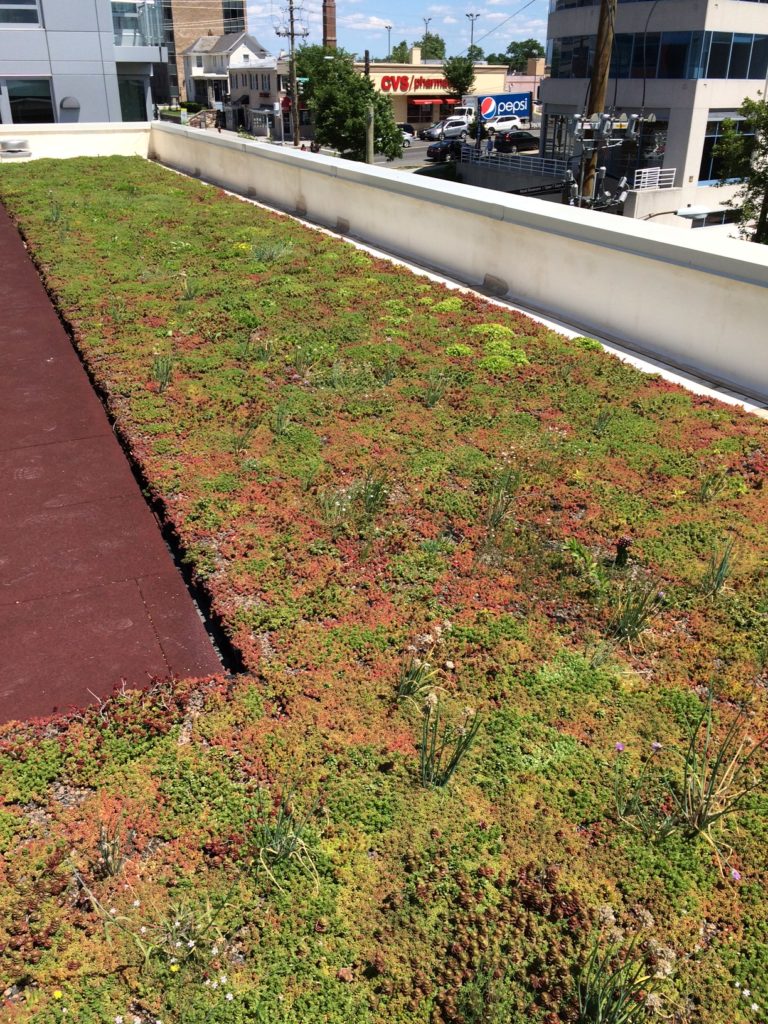 There are two main types of green roofs: extensive and intensive. Extensive green roofs are low maintenance, used mainly for environmental benefits, and consist of succulent plants and grasses; which is the type of green roof Friendship has. Whereas, an intensive green roof is higher maintenance and can consist of all types of vegetation, including trees and shrubbery.
Being that Friendship has an extensive green roof, our vegetation consists of grasses, succulents, and cacti. This vegetation is ideal because it can withstand harsh conditions, such as temperature extremes, high winds, and high drought tolerance including water minimization. Furthermore, the rapid growth and spread to ensure complete coverage, and low growth height of the plants is ideal for Friendship's rooftop. Recently, a flowering plant seed mixture was dispersed throughout the green roof to help add more diversity. This seed mixture consisted of flowering plants that will help attract butterflies and humming birds.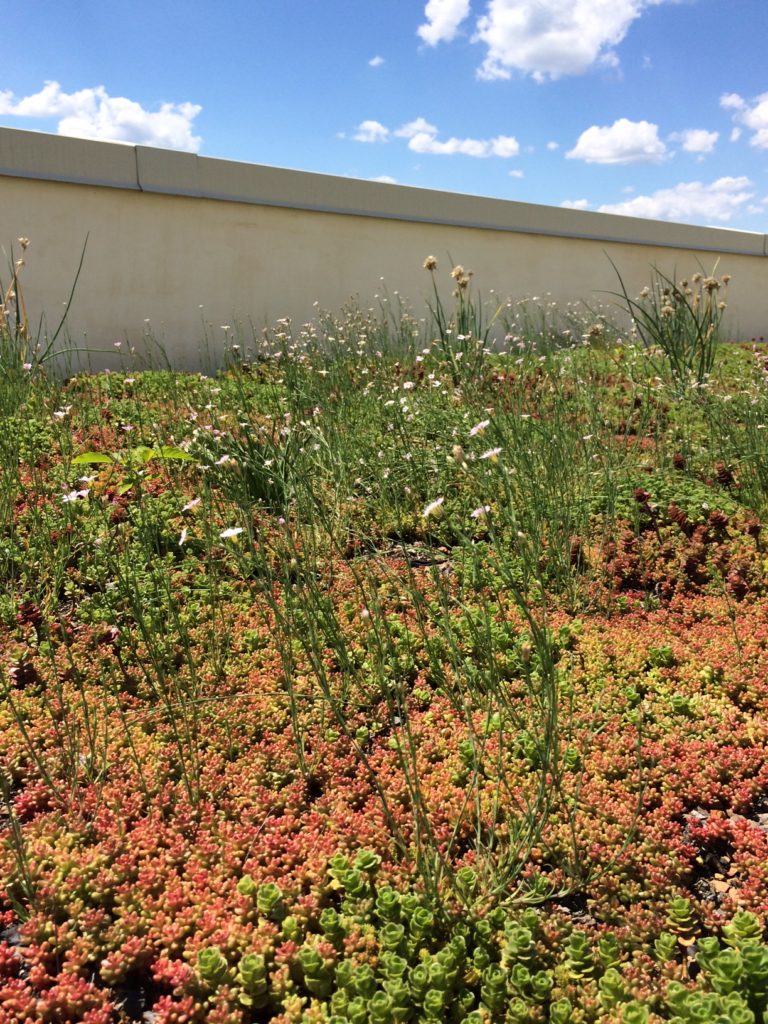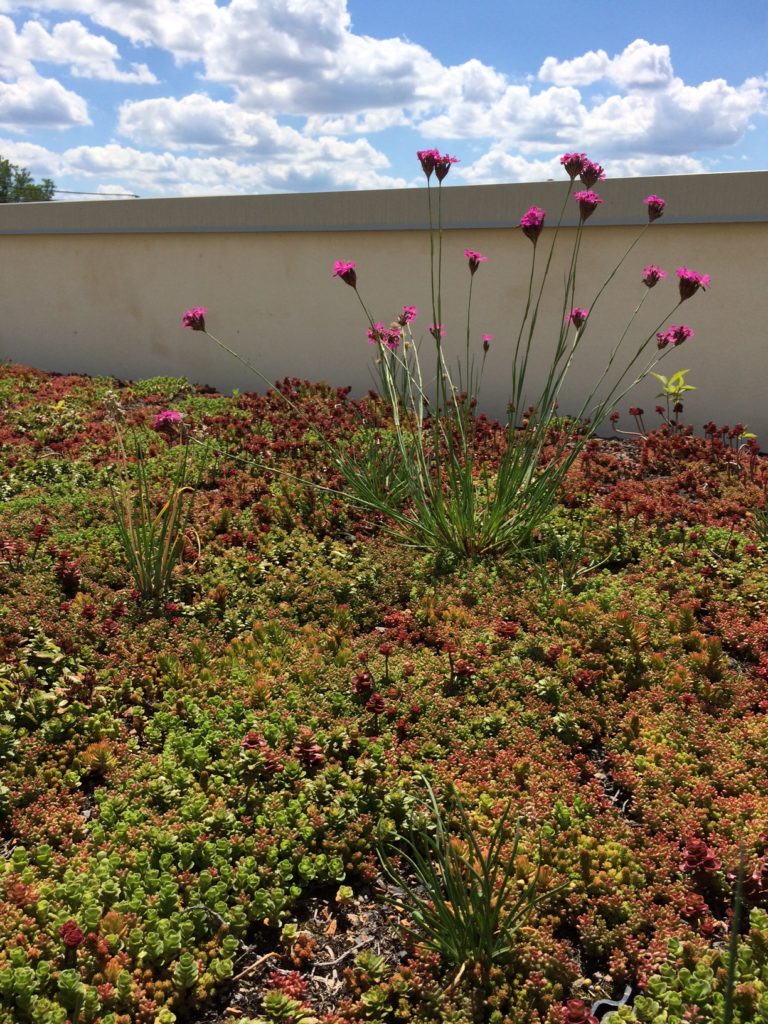 Plants on the green roof include: Allium Schoenoprasum (Chives), Delosperma Nubigenum Baustoland, Gymnocalycium Mihanovichii (Grafted or Moon Cacti), and a variety of Sedums (Album, Kamtschaticum Golden Carpet, Spurium Fuldaglut, Spurium John Creech).
Mickey Sigsbee, Friendship Hospital for Animals Facilities Manager, cares for Friendship's low maintenance green roof. There are three main duties for maintaining the green roof: weeding, fertilizing, and watering. Weeding is on an on going, as needed basis, so that is easy. For the fertilizing, Mickey does this twice a year – in the winter and spring – with a slow 15-9-12 fertilizer, which is fifteen percent nitrogen, nine percent phosphate, and twelve percent soluble potash. Watering the green roof is on an as needed basis as well. This can take up to four hours depending on the thoroughness of the watering that is needed. However, on a normal day the green roof can last up to ten days without watering.
Friendship Hospital for Animals is proud to do their part in keeping the community and the environment clean and healthy.
*Featured image courtesy of Friendship Hospital for Animals.