This year marks the 25th anniversary of Dr. Bolch joining the Friendship family!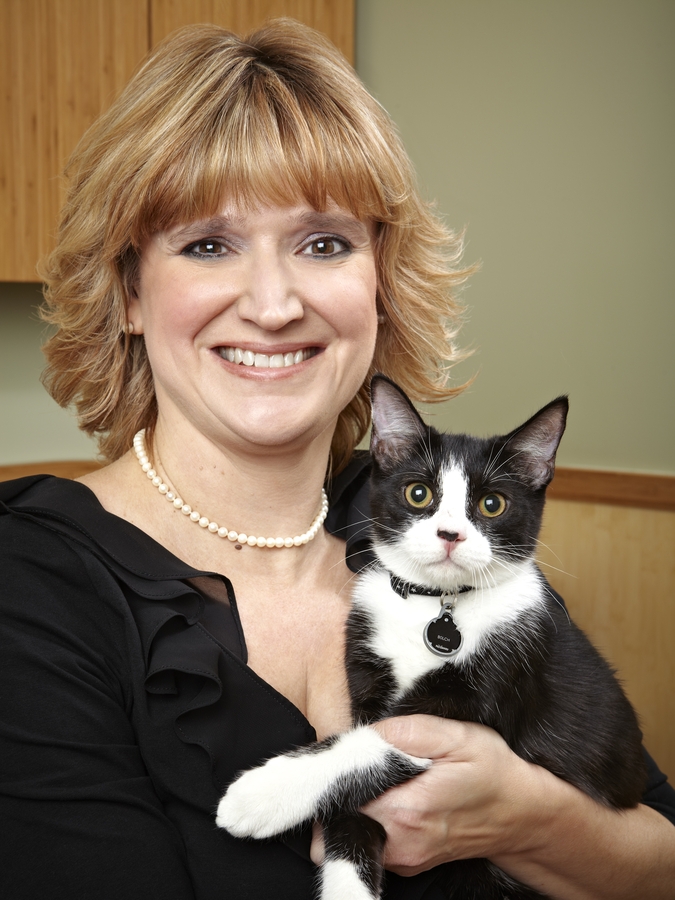 Growing up outside of Pittsburgh, Dr. Bolch attended Penn State University, where she received her degree in Animal Bioscience. During that time, she worked at a veterinary hospital in her hometown with a veterinarian who encouraged her to pursue her dream. "The love that he showed for the veterinary profession really was an inspiration, " said Dr. Bolch. In 1992, Dr. Bolch graduated from Purdue University as a doctor of veterinary medicine.

In 1994, Dr. Bolch began her tenure at Friendship Hospital for Animals. She served as Chief of Medicine for 5 years, participating in many of the administrative aspects of Friendship. With her current schedule, Dr. Bolch is able to focus on the part of the job she enjoys most – establishing lifelong relationships with her patients.
Outside of work, Dr. Bolch is a loving wife and mother of three humans, three cats, and a dog. When not busy with hockey mom duties, she enjoys gardening, decorating her house and traveling with her family.

To help commemorate her tenure, we asked Dr. Bolch to share some of her wisdom.
1. In your experience, what has been the most surprising change you've seen in veterinary medicine over the years?
While maybe not surprising, I would say the biggest change over the years has been the quality of care for our four legged family members. When I started practicing, veterinarians had the "James Herriot" country vet that does a little bit of everything reputation. Over the years, pet parents have wanted and Friendship certainly has provided human quality medical care for our cats and dogs. This has led to the growth of specialty care as well as high quality primary care.
2. If you had to choose just one, what would you say is the most important characteristic of a primary care veterinarian?
I think having the ability to truly listen is the most important quality for a primary care veterinarian. I always tell my clients that they know their pets the best and if they feel something is wrong then usually they are right. I need to listen to the clues they give me. However, I need to listen to what is best for them as well as their beloved pet.
3. What is the best advice you have for someone interested in pursuing veterinary medicine?
I'd want to tell anyone considering veterinary medicine to realize that you will be a therapist for people as much as a veterinarian. It can be very emotionally draining and you need to take care of yourself both physically and mentally to thrive in this profession for 25 years! Also to enjoy the positives- remember you are human and the best is all you can do!!

4. What is the most important piece of advice you like all pet owners to know?
I'm not sure this is advice or just something I want people to remember. Veterinarians are here because we love what we do and love your pets. We are here to help you make the best decisions for your family member. We want to work with you as a team to help your furry friend live as happily and as long as possible!
5. As an unofficial expert on "dog people" vs "cat people", who would be more likely to survive a zombie apocalypse?
That's a great question but I'm going to get in trouble regardless of the answer! However, here it goes….I'm going with cat people surviving during the zombie apocalypse. I think they are a lot like their cats- can be independent and survivors but will come together for companionship- especially when it benefits them.
(Please hold the hate mail dog lovers!!)
6. If you had to guess, how many puppies have you snuggled in your entire lifetime?
Number of puppy snuggles…that's a tough one. I get to see about 5 puppies a week. Over 52 weeks times 25 years that would be about 6500 puppy snuggles. They are the best and keep you going especially during the tough days!!
I also just wanted to add that my favorite part of being a primary care veterinarian is the life long relationship with both the cats/dogs as well as their parents that I get to form. I've gotten to know three generations of some families and it's been an honor to be a part of that even if it's in a small way.