Adopt a Pet. Save a Life!
Welcoming a new dog or cat into your home is such an amazing thing. If you're thinking about adopting a new family member, think about adopting a rescue dog. Adopting a dog from an animal shelter saves a life and according to the Humane Society of the United States, 2.7 million dogs and cats are euthanized in this country every year. It is so important that you don't adopt on a whim, be sure to take a few weeks to think through the age, size and breed that will best fit into your home and lifestyle. When you have finally made your decision, you'll have a loyal companion for life, and you will feel good knowing you may have saved their life.
After losing my wonderful dog Pearl, a 16.5 year old Shih Tzu mix, it took me 6 months to decide to adopt, and another 6 months to decide what type of dog would fit into my family's busy life-style and have the best chance of getting along with my other two dogs. Meet Logan! He's the cutie on the right with the floppy ears. His mom was adopted from a shelter when she was pregnant. The rescue group raised the puppies until they were 11 weeks old, and then found them all homes.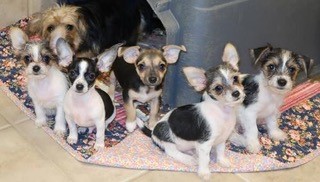 Dr. Kuehn graduated from the University of Minnesota and joined Friendship in 2005. She is a Diplomate of the American Board of Veterinary Practitioners and serves as Friendships Chief of Primary Care. Her interests include endocrinology, urinary tract disease, ophthalmology, and soft tissue injury.
*Featured image courtesy of Shutterstock.