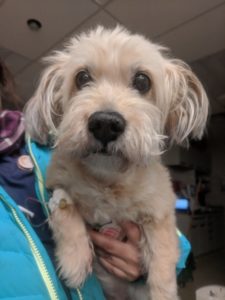 Chloe is a 15 year old female spayed mixed breed dog who presented to the Friendship Cardiology Specialists for evaluation of episodes of collapse and labored breathing.
On exam, she was found to have labored breathing and abnormal lung sounds (crackles). An echocardiogram was performed and showed a thickened mitral valve with a large leak causing enlargement of her left atrium (filling chamber of the heart) and left ventricle (pumping chamber of the heart). X-rays were performed and revealed evidence of fluid in her lungs (congestive heart failure) secondary to her leaky valve.
Chloe was hospitalized in the ICU and treated with oxygen and injections of diuretic medications to help remove the fluid from her lungs. She was also started on medications to help the pumping function of her heart. After a day of treatment, Chloe was feeling much better. She was weaned from oxygen and was breathing comfortably on room air, eating well, and stable to go home for further treatment and care. She will follow-up with the cardiology specialists so that her medications can be adjusted over time to help keep her congestive heart failure under control.
---
Dr. Block earned her veterinary degree from the University of California, Davis, School of Veterinary Medicine in 2013. Dr. Block completed a rotating internship followed by a cardiology residency at the University of Pennsylvania and joined Friendship Cardiology Specialists in 2017.
---